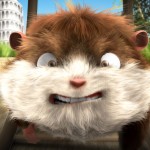 Country: Germany, 2009
Directors: Jacob Frey and Harry Fast
Producer: Anna Matacz
Synopsis: "Bob" is a little animation short that tells the story of a hamster which trys to follow his hoepfully true love around the globe. It was created during our second year at the Filmakademie Baden-Württemberg in Ludwigsburg Germany.
The core team consisted of Jacob, Harry and Anna. Luckily we had several other people that helped us during our production. The whole three minute short got created in six months and has been running on festival ever since it got finished.